Common Rule & New Application

Human Research Protection Program
February 4th, 2019
To: Investigators and Staff
Revised Common Rule
The revised policy for the protection of Human Research Subjects (the "Common Rule") went into effect on January 21, 2019. The Common Rule only applies to new federally-funded and federally-conducted studies.
Please visit the IRB's new Common Rule webpage at https://irb.ucsf.edu/common-rule [1] to learn about the policy change and to access resources such as:
Common Rule FAQ's
Town Hall Presentation slides and video, "The New Common Rule" by Laurie Herraiz, HRPP Director
Decision Tool: Does this Study Qualify as Exempt 1, 2, 3, or 4?
CITI Program's Revised Common Rule Course
CITI Program's Final Rule Resources
Revised IRB Application
The IRB application form has been updated to comply with the Common Rule and also to include several new questions required for institutional reporting. When you open your application, you might see a pop-up window like this: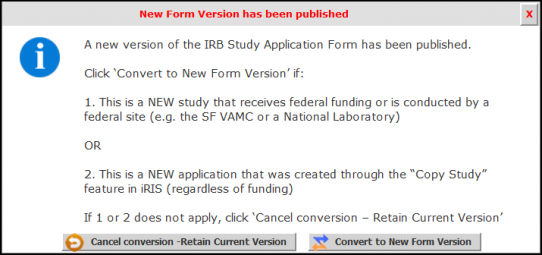 Please be sure to read the instructions in the pop-up window before making a selection. You should convert to the new form if you have a NEW study which is either:
(1) federally funded or federally conducted,
        OR
(2) copied from another application in iRIS, regardless of funding.
Do not convert to the new form if your study is already approved by the IRB.
If you have questions about whether you should convert to the new form, please call the IRB at 476-1814.