Print
PDF
We are delighted to announce that the UCSF IRB has launched a new website! Please visit http://irb.ucsf.edu to see the fresh new look and user-friendly navigation.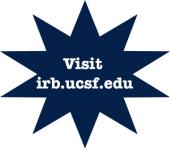 The new site is designed to make it easier to learn about our services and efficiently locate the information you need. By using straightforward menus, consolidating over half of the guidance pages and simplifying the content, we have greatly improved the user experience of the site. The responsive design is optimized for mobile and tablet browsing, giving you uncompromised access while on the go.
Please take a look around the site and let us know what you think. We encourage each of you to complete our website feedback survey. The first 150 respondents will be entered into a drawing for a $50 restaurant gift card!
I would like to thank the UCSF staff and faculty who provided us with valuable feedback during the website redesign process, as well as the Clinical and Translational Science Institute (CTSI), Office of Ethics and Compliance, and IT Department for their assistance. Of course, I offer a big thanks to the amazing IRB staff who gave their time and energy to develop the site.
Christopher Ryan, PhD
Director
UCSF Human Research Protection Program