Print
PDF
Transition of Review for Research Conducted at Benioff Children's Hospital Oakland to UCSF's IRB
As a result of the affiliation between Children's Hospital Oakland and UCSF, the IRB operations are actively integrating. Benioff Children's Hospital Oakland (BCH Oakland) has now been added to the federal-wide assurance (FWA) for UCSF. During the integration, both institutional FWAs remain in effect and Children's Hospital Oakland IRB approval letters are valid through the date of expiration.
Studies that are conducted at both UCSF and Oakland no longer require duplicate site IRB approval.
New Studies After April 17, 2020, the current Oakland IRB will stop accepting new study applications in the CYBER IRB system.
As of May 1, 2020, new study applications to conduct human subjects research at the Oakland campus will be submitted via iRIS, the UCSF online IRB submission and review system.
New (initial) study applications will be routed by the appropriate IRB through iRIS. The Researcher will indicate in the study application if study activities, including chart reviews, will take place at more than one study site.
Studies that are primarily conducted at Oakland will be routed to the same panel that currently reviews active BCH Oakland studies.
The IRB has set up a series of Zoom Meetings to provide updates to Oakland researchers. Login details for these Zoom meetings have been emailed to research staff. 
Transfer of Existing Studies into iRIS
The transition process will occur over a 9-month period. First priority will be given to studies involving full committee interventional research and minimal risk research involving subject contact. No-subject contact research, such as chart reviews and specimen analysis studies, as well as studies involving a reliance will be processed according to expiration date.
As of April 3rd, 2020, the current BCH Oakland IRB approval letter suffices as documentation of valid IRB approval for transfer of research funds for studies that have not yet been transferred into the iRIS system. This process has been approved by the Office of Sponsored Research (OSR). To clarify, previously Oakland investigators were required to obtain a UCSF approval letter via a UCSF reliance application. This is no longer the case.
Instructions on submitting transfer studies will be made available before transfers are initiated.
The Pediatric IRB will be one of five panels under the UCSF FWA. FWA00000068
A letter regarding these updates from the HRPP to Sponsors is forthcoming. Once available Investigators may download and forward to appropriate Sponsor contacts.
A new Oakland IRB Committee is currently being established. The new committee will be based at the Oakland campus and will be primarily staffed by IRB Members who are based at the Oakland campus. 
The Oakland IRB Committee will include representation from the both the East & West Bay campuses. Lynne Neumayr, M.D., who specializes in Pediatric hematology/Oncology, will serve as Chair of the Committee. Art D'Harlingue, M.D. is a Neonatologist and will serve as the Vice Chair. Diane Wara, M.D., who is a Vice Chair on the Laurel Heights Committee, will serve as an IRB Member on the new Oakland IRB Committee. The HRPP sees the value of having representation from both sides of the Bay.
As the committee is first being brought on-line, their work will initially be limited to review of ongoing and new research that is primarily conducted at the Oakland campus. Studies that are currently approved under the Oakland IRB will remain assigned to the Oakland IRB. As time progresses, the Oakland panel may review pediatric studies conducted across East and West Bay campuses, as capacity allows.
The Oakland IRB Committee meeting schedule/submission deadlines can be found
here
.
Investigator Letter to Sponsors
This letter
is to provide study sponsors with information about the integration, membership, FWAs, and function of the UCSF IRB.
Research studies involving BCH Oakland as a site must meet one of the following requirements:
The PI or one of the co-investigators must be from BCH Oakland.  OR
The IRB submission must include a letter of support from a relevant clinical service head (e.g., Chief of the Service, Department Head) stating they are aware of the study and are in support of study activities taking place on their unit/with their patients/with their patients' data (whichever applicable).
If you are submitting a new BCH Oakland study or transferring an existing BCH Oakland study to the UCSF IRB, please review the "BCH Oakland IRB - UCSF IRB Study Transfer Matrix" for details about when to submit your study, what iRIS forms to use, and which documents to upload. View the matrix here:
BCH Oakland IRB - UCSF IRB Study Transfer Matrix
Consent Form Template Requirements
UCSF Health uses a different consent form template than Children's Hospital Oakland. Active studies may continue to use the BCH Oakland consent template until December 31st, 2021. After that date, all ongoing studies must transition to the UCSF consent form format.
The following statement about Treatment and Compensation for Injury must be added to the consent by December 31, 2021. UCSF handles research-related injury compensation differently than BCH Oakland which is why this is a requirement. A modification to update the consent form should be submitted to update the Informed Consent document after the study has been transferred into iRIS.
All
new
studies must submit consent forms that have been formatted to the
UCSF templates
. 
Consent Addendum for Ongoing Studies
All ongoing research study participants will not need to sign a new consent form but should be provided with an
Integration Consent Addendum
 (right click to download document) following transfer and approval in iRIS. The addendum is also available in
Spanish
. A
Certificate of Translation
is available for your reference.
Consent Addendum Instructions for iRIS Transfer:
Complete the Integration Consent Addendum with the study-specific details and upload to IRIS along with your previously-approved consent forms and study documents. The IRB will stamp the Addendum when the transferred study is processed. Forward the stamped version to all study subjects, past and present, to ensure they've been informed of the significant new IRB information (email, mail or in-person distribution is acceptable). Sharing of these updates are required for HIPAA and regulatory compliance.
If distributed via email: Individually email each participant separately. Ensure to securely and confidentially save each email correspondence including bounce-backs for your study records.
Note: If your study has a complete HIPAA and consent waiver, this form is not required.
Use the
new
UCSF Health BCH Oakland HIPAA Authorization Form:
PDF Template
 to enroll
new
research participants. Ongoing participants
will not need
to sign a new Authorization form (see Consent Addendum Instructions above).
BCH Oakland-Specific Questions on the Initial Review Submission Packet Form
If Benioff Children's Hospital Oakland (BCH Oakland) is checked as an Institution in the 'Sites' section in the Study Application Form, the Initial Review Submission Packet Form will display questions relating to site status (e.g. Active, Data Analysis Only, etc.) and prior IRB review. These questions will be used to route new and transferring Benioff Children's Hospital Oakland studies to the Pediatrics Committee in iRIS.
For transferring studies, check 'Yes' to 1.9 and to the follow-up question asking if the study has already been approved by the BCH Oakland IRB and provide the IRB approval number.
For new studies, if BCH Oakland is NOT the primary site, check 'No' to 1.9.
1.9 * BCH Oakland STUDY: You checked UCSF Benioff Children's Hospital Oakland (BCH Oakland) as a site. Is BCH Oakland the PRIMARY study site: (REQUIRED)
* Has this study already been approved by the BCH Oakland IRB: (REQUIRED)
* What is the original BCH Oakland IRB number: (REQUIRED)
Single (Central) IRB and Reliance Agreements
Single IRB and Reliance processes are currently under development.
A letter for sponsors regarding the integration of the IRBs is in development.
A guide for COG studies is in development.
If an investigator needs to make an amendment to a study (modification), the application can be processed via CYBER.  Investigators are not required to transfer a protocol into iRIS before processing an amendment.Once a protocol is transferred to iRIS, then all subsequent amendments (modifications) are processed via iRIS.
Research Committee
The Oakland Research Committee (RC) will continue to review new study applications that have not been peer reviewed. Generally, this refers to industry and investigator-initiated studies. Federally funded studies do not require RC review. The Research Committee Chair makes the final determination as to whether a protocol requires review by this committee.
CITI Training
The CITI license for Children's Hospital Oakland will be expiring in September 2020. The IT group is investigating the feasibility of exporting BCH Oakland CITI training records into iRIS, but this may not be possible.
All researchers and study personnel should add 'University of California, San Francisco' as an Institution and download any active training course certificates for their records.
Click here for guidance.
For updated CITI information please review this
memo
dated 8/25/20.
There are two instances when it is necessary for an investigator to complete and sign a new 1572: when an investigator is participating in a new protocol that has been added to the IND and when a new investigator is added to the study (21 CFR 312.53(c)).
If there are other changes to information contained on a signed and dated 1572 (e.g., an IRB address change, the addition of new co-investigators, the addition of a clinical research lab), the investigator should document the changes in the clinical study records and inform the sponsor of these changes, so that the sponsor can appropriately update the IND. The 1572 itself does not need to be revised and a new 1572 need not be completed and signed by the investigator. The sponsor can accumulate certain changes and submit this information to the IND in, for example, an information amendment or a protocol amendment.
After your study has been transferred into the iRIS system. We advise that your 1572 is updated to reflect the new FWA number. The IRB does not need a copy of the updated form 1572. However sponsors and or the FDA may need the document.
The following may be used to complete section 5 of an updated FDA form 1572
Name of IRB: UCSF IRB
Address: University of California San Francisco
490 Illinois Street, Floor 6
San Francisco, CA 94143
A letter regarding these updates from the
HRPP Letter to Sponsors
can be found
here
.
iRIS Training
The UCSF IRB's
iRIS Help Site
offers interactive tutorials and downloadable PDF guides on the following topics:
You will need to sign into MyAccess to access the iRIS Help site: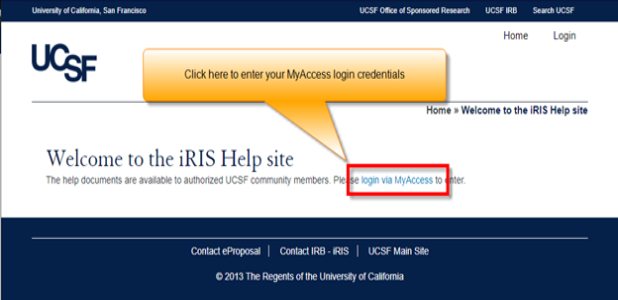 On-Boarding Requirements for Volunteer Research Staff
At this time volunteers must be processed at both UCSF and BCH Oakland.
UCSF Volunteer Information: click
here
Table of Transition East/West IRB Integration
Topic

Pre Transitioned (into iRIS)

Post Transition (into iRIS)

Emergency Use

Continue to follow current BCH Oakland Process

See Emergency Use Guidance for Emergency Use requests May 1st and on.

Initial Applications

As of April 20th, Cyber IRB will no longer accept new study applications.

If the study is in draft an exception may be made.

Submit initial applications in iRIS beginning May 1st

Continuing Reviews

Submit via Cyber IRB.

After continuing review is approved, transfer to iRIS within 4 months of Cyber IRB approval.

Ongoing Continuing Reviews will be submitted in iRIS after transfer has been submitted and processed.

Modifications

Continue submitting in Cyber IRB until the study is transferred to iRIS.

Note: The iRIS modification process differs from Cyber IRB

Once the study has transitioned, all forthcoming modifications must be submitted via iRIS.

Consent Documents (Actively recruiting Research)

Continue using Benioff IRB approved consent documents through December 31, 2021.

Submit transitioned Consent Document via modification form in iRIS.

UCSF/BCH Informed Consent template should be used.

HIPAA Authorization Form

You may continue using the currently approved HIPAA Authorization form for Active Research only.

New studies must use the following HIPAA Authorization form.

Data Use Agreements/Materials Transfer

BCH Oakland PIs non-affiliated with UCSF should contact Suzanne Haendel through December 2020.

This process will be updated by December 2020

Contact Office of Sponsored Research

Subject Complaints/Allegations of Non-Compliance

Contact IRB phone number in the Informed Consent

Click here to report a complaint or allegation of non-compliance

Email QIU Analyst of the Day

Email QIU: [email protected]

Guidance is available here.

Protocol Violations

Submit via Cyber IRB

Submit using protocol violation reporting form.

Adverse Events

Submit via Cyber IRB

Submit using Adverse Event reporting form.

Reportable Information

Updated Investigators Brochure

DSMB reports

Audit/Monitoring reports w/significant findings

Hold on Study Activity due to unexpected risks or required by an oversight entity.

Other safety information or publication

Pharmacy Packet Inserts

Submit via Cyber IRB

Note: DSMB reports may continue to be submitted at Continuing Review until transitioned.

Submit using reporting form.

Support

Contact IRB phone number in 415-476-1814

Email: [email protected]

Analyst of The Day (AOTD) hours: 8am-5pm Monday-Friday

415-476-1814
Additional Resources:
Frequently Asked Questions:
Q: How will 'duplicate' protocols taking place at the Oakland and SF campuses be entered, now that BCH Oakland studies will be in iRIS as well?
A: In some cases there will be two active protocols (IRB #s). Generally, we would like one iRIS application if the protocol is active at both sites. Exceptions can be made. Contact the front desk for exception inquiries.
Q: Is Cancer Center Review Required?
A: No, Benioff Oakland is not considered a part of the HDFCCC. Cancer Center review will not be required until further notice
Q: Is Radiation Safety Review Required?
A: Yes, for new studies only. Radiation review, will not be required for studies that already have IRB approval.
Q: Is Biosafety Review Required?
A: Yes, for new studies only.
Preparing for the integration (Checklist):
| | |
| --- | --- |
| Completed | To Do: |
|   | Confirm that any active studies are not expiring within the next 60 days |
|   | If so, submit a Continue review under the pre-integration process to avoid a lapse |
|   | Update your CITI profile by affiliating with UCSF |
|   | Ensure you have no trouble logging in to iRIS, if so contact IT |
|   | Review iRIS training modules to understand system navigation. |
Training
Take iRIS training tutorials
Attempt submitting in iRIS using Quick Guides as reference
Register for iRIS training via Zoom (Schedule to be announced)
In-person Group Training will be announced once the COVID-19 Public Health Emergency has been cleared.